About half the children who take their own lives had seen a doctor within the past month.
And 80% had seen a pediatric provider in the past year, according to doctors who spoke at this year's 66th annual meeting of the American Academy of Child and Adolescent Psychiatry, held in Chicago in October.
Would a more robust — even universal — mental health screening process for all children, not just those with predetermined psychiatric issues, help ward off deaths by suicide?
Many in the medical profession think so.
The Joint Commission, the national health care accreditation and certification organization, implemented revisions to its National Patient Safety Goal for hospitals and behavioral health care organizations on July 1 which state that suicide prevention should be woven into each medical contact, from admission through follow-up, and include suicide-risk screening and environmental assessment.
"Whether you're a primary caregiver, a teacher or a family member, everyone needs to know where to start and what to do next in navigating the system, and that requires a single point of entry and a standardized approach to assessment," said Shannon Van Deman, vice president of the Pediatric Mental Health Institute at Children's Hospital Colorado.
Medical facilities across the nation are instituting procedures to detect at-risk children and take steps to intervene.
Ultimately, the question, "Do you have thoughts of suicide?" will become as routine as, "Do you have high cholesterol?" or, "Do you smoke?" said Andrea Wood, hired as a Zero Suicide coordinator by UCHealth in Colorado Springs in September.
"A model starts by identifying a need, and we need to do something — this is a problem," said Dr. Khyati Brahmbhatt, a child and adolescent psychiatrist at Benioff Children's Hospital at the University of California San Francisco.
She was among hundreds of speakers at the recent American Academy of Child and Adolescent Psychiatry meeting. Billed as the world's largest gathering of child and adolescent psychiatrists, attendance topped 4,100.
As the massive convention progressed, the federal Centers for Disease Control and Prevention dropped a bombshell: The fastest-growing sector for completed suicides nationwide is among children 10 to 14 years old. Suicide rates tripled for that age group from 2007 to 2017 to 2.5 deaths per 100,000 children. The new CDC report also cited suicide as the nation's second-leading cause of death in 2017 for ages 10-24.
"These numbers are people with lives, families, faces," said Brahmbhatt. "These kids are at risk. The sooner we intervene, the better."
Unlike mortality rates for heart disease, stroke, leukemia and AIDS, which have significantly improved, deaths by suicide have continued to rise, she said.
"Things have remained relatively unchanged over a prolonged period of time of what we've done about this issue," Brahmbhatt said. "It's staggering when you think about the impact."
State plan will be voluntary
In Colorado, where teen suicide rates have consistently tracked above national averages, lawmakers this year approved a bill requiring the state to develop a plan to adopt universal screening tools for pediatric care, train providers on the process and financially compensate those who participate in a new standardized system.
Recommendations on a plan, along with how to coordinate wraparound care and funding for youth with significant behavioral health needs, are due July 1.
Such a proposal would be voluntary, though, not mandatory for providers and those in health care settings.
"It's more of trying to create a carrot rather than a stick system," using incentives, said Van Deman, who lobbied for the new legislation. "Besides the screening, the idea behind the bill was we want to create certain things that all youths and families in the state of Colorado, irrespective of where they live, have access to."
Van Deman is one of 100 members of a Behavioral Health Task Force established in April by Gov. Jared Polis to overhaul the governance and administration of Colorado's mental health treatment system.
She also co-chairs a subcommittee of the task force that's focusing on children's behavioral health, which is studying access, the array of services, financing and quality assurance, among other topics.
"I feel cautiously optimistic," Van Deman said about the work, which began a few months ago and will present a report to the governor by June. "We want to create a system in Colorado to make sure no one is falling through the cracks."
Some have gotten a head start.
For the past three years, all adults and children ages 12 and up who seek medical care in the Kaiser Permanente system, one of the nation's largest nonprofit health plans with 12.3 million members, undergo multiple mental health screenings designed to identify anxiety, depression, substance use and suicide risk, according to Dr. Deirdre Foster, Kaiser Permanent Colorado's child psychiatry chief.
Children under 12 may be screened for autism, ADHD, traumatic childhood experiences and suicide, she said.
The results are accessible electronically by pediatricians, primary care providers and surgeons.
Such data allows providers to track improvements or regressions and, for example, make changes to medications, suggest patients add mindfulness-based techniques to their lives or provide advice on seeking long-term mental health care, Foster said.
"Children and teens may not know it's OK to talk about mental health, depression and even suicide," she said. "Studies have shown that talking about these needs doesn't actually make the problem worse or mean someone contemplating suicide will commit suicide.
"We want Colorado kids to know 'mental health' is not a bad phrase. The more we talk about it, the more comfortable kids and adults become with seeking out the necessary help."
Foster did not have statistics on whether the system is improving suicide rates.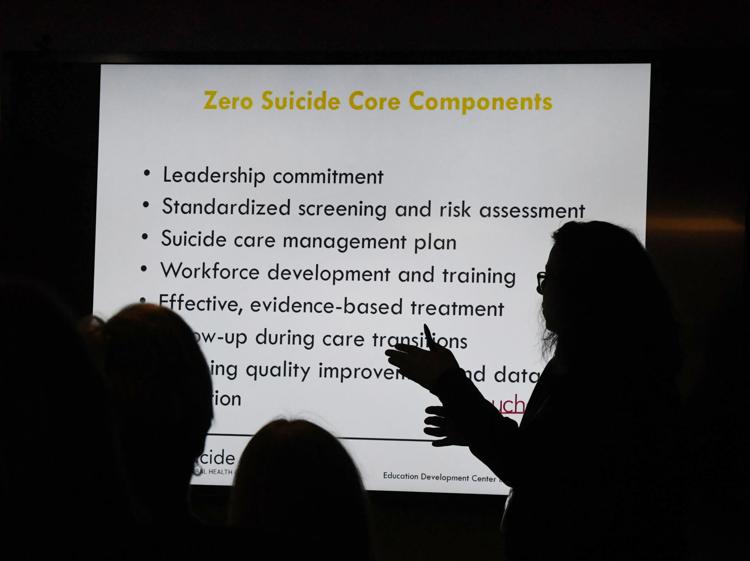 Questions about screening
Public buy-in to comprehensive screening may not be a sure bet.
Colorado Springs resident Darlene Haina said she isn't convinced a teen or adult considering suicide would admit it on a medical intake form.
When she's been asked such questions at a doctor's office, Haina said she felt offended:
"I came here because I had an ear infection, and you're asking me if I'm thinking of killing myself?"
Haina, who's son died by suicide eight years ago and was at last week's memory tree lighting ceremony by Heartbeat, a local support organization for survivors, said she understands the reasoning: "They might find that person who needs help that day."
On the other hand, "I'm here for the flu, and it seems like you're trying to get inside my head."
Andrea Wood, the Zero Suicide coordinator hired by UCHealth in Colorado Springs, is training all employees on a new screening system that will begin this month for patients ages 6 and up.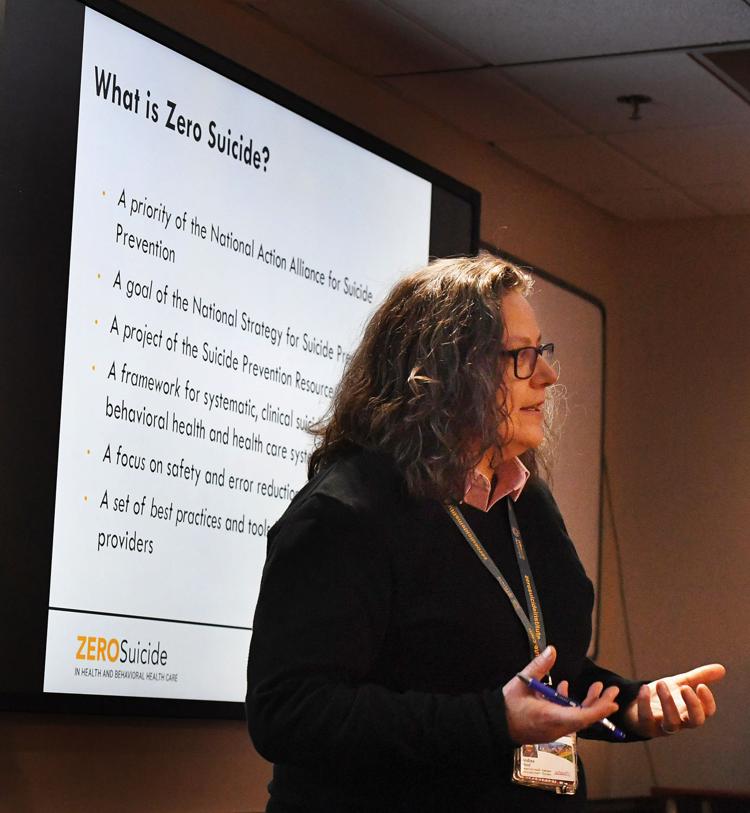 Zero Suicide is a national model for reducing suicide that looks at every patient holistically, said Wood, who worked as the mental health evaluator for UCHealth before becoming the Zero Suicide coordinator for Southern Colorado hospitals, clinics and other facilities.
The health care system selected the Columbia Suicide Severity Rating Scale, six questions to determine whether a patient is a low, medium or high risk for suicide at the time they check in for outpatient, inpatient, emergency, physical therapy or other medical services.
"The risk in any system is you miss that high-risk person," Wood said. "We're really good at flagging people who share with us their intent to harm themselves. These tools should, if you come in for hip pain or a broken ankle, aim us in the right direction (as to) whether you need behavioral health care, too."
The children's screening that will be proposed for all Colorado health providers likely will suggest up to a dozen tools that can be used as best practices, Van Deman said.
The age of children being assessed, the cultural appropriateness of the questions, the levels of depth of the questions and other factors will determine which tools providers will use, she said.
The ASQ, which stands for The Ask Suicide Screening Questions, is one such questionnaire.
Dr. Lisa Horowitz, staff scientist and clinical psychologist at the National Institute of Mental Health Intramural Research Program at the National Institutes of Health in Bethesda, Md., co-created the form that takes about 20 seconds to answer, along with a companion toolkit and the clinical pathway.
"With limited resources, implemented suicide risk screening in medical settings is feasible," she said during a presentation at the October Chicago meeting.
As the second-leading cause of death worldwide for youth, suicide is defined as an international public health threat, she said.
"The No. 1 root cause is lack of assessment; under-detection is such a problem, and early detection is critical," she said.
Horowitz thinks the American Foundation for Suicide Prevention's initiative to reduce the number of suicides in the U.S. by 25% by 2025 is achievable.
It's going to take a cultural shift she said, comparing the needed effort to the one undertaken to reduce car crash fatalities. In that field, improving trauma care, instituting seat belt and car seat use campaigns, cracking down on violators and requiring car manufacturers to include more safety features in vehicles were among many actions that have successfully reduced car deaths in recent decades.
"I think similar strategies need to happen to reduce the suicide death rate," Horowitz said. "It's got to be this multifaceted approach with more regulations, better health care treatment and more access."
Horowitz points to Denmark's success in decreasing suicide rates from 38 deaths per 100,000 people to the current 11 deaths per 100,000 — the lowest rate among high-income countries.
Among the steps Denmark took: Improving anti-depressants, removing carbon monoxide from household gas, introducing catalytic converters to car exhaust systems, restricting firearms, offering more counseling and therapy, and eliminating suicide opportunities in psychiatric wards.
The idea that someone will drive to another bridge (to commit suicide) if their first choice is unavailable isn't supported by statistics, Horowitz said.
"If you disrupt that state (of wanting to kill yourself immediately), you can save lives, which is why restriction is so important."
Major breakthroughs in the United States include cognitive behavior therapy, which cut attempts in half over 18 months, according to the Journal of the American Medical Association. The advent of dialectical behavior therapy reduced attempts by 50% over two years, in what was called a "hallmark study."
And a 2017 intervention study of hospital emergency departments showed universal screenings for adult patients, combined with safety planning and post-discharge follow-up phone calls, decreased attempts by 30% over one year.
"The majority of providers didn't even do the intervention right, and it still reduced the attempt rate by 30%," Horowitz said. "This means if we just did a little better, we just might be able to save a lot of lives and bring the rates down."

Mental Health: A crisis in Colorado — Parents struggle, families buckle with a child's mental illness
Helping build coping strategiesA suicide-risk screening must be brief, easy to use and reflect "proven sensitivity" to cultures such as Native Americans and religions including Orthodox Judaism, Horowitz said.
"The assessment helps you figure out what to do next," including identifying those children who need further evaluation, she said.
For children who have an affirmative response to the four or five ASQ questions, a safety assessment comes next, to determine the severity of distress.
"Most kids likely won't need the paper gown; acute positive rates are (usually) less than 1%," she said.
ASQ has been translated into 16 languages and is being tested for use by children in medical settings, schools, child-abuse clinics and juvenile detention centers. Children 12 and older can respond by themselves, while those under 12 usually need parental assistance to answer the questions, which include, "In the past week have you had thoughts of killing yourself?"
Experts who gave presentations in Chicago said they've encountered resistance to having children age 10 and younger respond to the questions.
But, "The scary thing about the age group under 12 is that they tend to do impulsive things more, so you really want to get on top of early detection and building those coping strategies quickly," Horowitz said.
The number of children who test "positive" for needing additional evaluation generally is not large enough to overtax medical systems, Horowitz said.
"In studies, we're seeing (positive) rates somewhere between 2% and 13%, but 3% to 6% is more real-world numbers."
At Benioff Children's Hospital in San Francisco, where Brahmbhatt works, eight of 1,500 children screened from January through June indicated they were thinking of killing themselves "right now."
The hospital had 121 nonacute cases, or 6% of the total screened, for which social workers were called, Brahmbhatt said. A child who came to the hospital for a broken leg ended up being admitted for inpatient psychiatric care.
Fink Children's Ambulatory Care Center, which is part of Hassenfeld Children's Hospital in New York City, started using screenings one year ago, after The Joint Commission identified the need.
Of 2,200 screenings, representing two-thirds of patients, 6% have been positive responses, said Becky Lois, director of integrated behavioral health programs at Hassenfeld Children's Hospital at NYU Langone Medical Center.
"We identified kids in distress, and one-quarter were treated in-house by our psych team to follow up," she said.
Half of the children, all of whom have chronic health conditions such as diabetes or cancer, had not shared their suicidal thoughts with anyone on their medical team, Lois said. "Nobody had directly questioned how their mental or emotional health was."
A child and parent decline (to be interviewed) rate of 15% to 30% has been typical, Lois said.
There must be multidisciplinary buy-in from not only doctors, nurses and other staff, but also parental understanding about the value, she added.
"I think we have a good enough model, and we don't really have parents freaking out," Lois said, but integrating emotional health and safety at any medical visit for children "still needs work."
Building children's strengths
At Salt Lake Children's Hospital in Utah, where youth suicide is increasing at higher numbers and more rapidly than nationally and is the leading cause of death for ages 10-24, the emergency department is handling up to 300 pediatric crisis cases a month, said child psychiatrist Dr. Lisa Giles, who runs the hospital's emergency crisis service. She's also an associate professor of pediatric psychiatry at the University of Utah School of Medicine.
"There's not enough inpatient beds, but we don't even know if inpatient psychiatric treatment is the answer," she said during a presentation at the Chicago meeting. "We don't have enough data to know if that's what's best for suicidal kids."
What seems to be working, Giles said, is conducting sessions with children by themselves to help them identify their strengths, talk about what makes them happy and what causes stress in their lives, how they can handle issues, what support systems they have, the practice of relaxation techniques such as deep breathing, and the concept of creating a safety plan, instead of self-harm, for their lives.
Sessions with parents focus on building children's strengths at home, addressing barriers and providing support and a safe home environment.
"There's a clear need for these interventions that can be practically implemented in the ER to help manage this suicidal risk," Giles said.
Having a trauma-specific screener in assessing a child in crisis also has been useful, she said, as have follow-up calls to homes after emergency room visits.
"We check in with the family and do a brief mood assessment and ask do you have that appointment scheduled, were you able to get a hold of someone?"
Mental health screening doesn't have to happen in a doctor's office, said Dr. Audrey Hall, a pediatrician at Kaiser Permanente's Briargate Medical Offices in Colorado Springs.
"Often, the people who can help identify a mental health need early are parents, friends, family members and even classmates," she said. "But it's hard to know the right things to say and it can be scary."
As a physician in Colorado Springs, Hall said she sees a need in the community for more mental health support for both kids and adults.
"The health care industry is making encouraging strides forward, but more can and must be done," she said. "We all have a role and can all have an impact. For instance, by simply changing the way we speak about mental health and wellness we can reduce stigma and better support children and their parents, as well as teachers and other caregivers."
Contact the writer: 719-476-1656.
Source link