A new book by investigative author Nigel Cawthorne has detailed the abuse Virginia Roberts faced at the hands of Prince Andrew. Virginia was one of the victims of Jeffrey Epstein and Ghislaine Maxwell, serving as a sex slave to the pedophile financier for years. She later claimed that she was "required to be sexually exploited by (Epstein's) adult male peers, including royalty, politicians, academicians, businessmen, and/or other professional and personal acquaintances."
Detailing Virginia's meeting with Prince Andrew, Nigel Cawthorne wrote in his book, an excerpt of which was published by the Daily Mail, "One day, she was flown to London and taken to Maxwell's townhouse in Belgravia. The following morning, Maxwell came into Virginia's bedroom and told her to get up. They had a big day planned for her. First, they had to buy her a new outfit as she'd be going out dancing later with Prince Andrew, the Queen's then 41-year-old son. Knowing what was expected of her, Virginia pretended to be excited."
READ MORE
Fed-up Queen will pay part of Prince Andrew's lawsuit in hopes it ends sordid saga
Pic that rocked Royals goes missing: Virginia Roberts says she LOST infamous snap with Prince Andrew
"You never know where it might lead, said Maxwell, telling her that Andrew had divorced five years before and was a bachelor. Privately, Virginia was appalled, and gulped down some tranquilizers. Andrew later insisted he couldn't recall ever having met her. According to Virginia, however, the adults chatted for a while about his ex-wife. Maxwell then asked Andrew how old he thought Virginia (whom Maxwell called 'Jenna') was. Virginia claims he guessed correctly – 17," Cawthorne added. "During the evening, she couldn't resist sending a text message to fellow sex slave Carolyn Andriano, who'd been recruited at 13. 'You'll never guess who I'm with,' she teased. Carolyn recalled later: 'She said, 'I'm in London with Jeffrey and Maxwell and Prince Andrew.' She said she was going to see if she could get a picture.' The quartet went out to dinner, followed by Andrew's driver and two royal protection officers."
Years later, Andrew said he had no recollection of meeting Virginia. He claimed he was in Pizza Express in Woking, Surrey, with his daughter Beatrice at the time. However, in Virginia's version, they went to Tramp nightclub in Mayfair, where Andrew danced, "caressing her, sweating profusely and kissing her neck."
Cawthorne wrote, "Back at Maxwell's house, Epstein took a quick photo of Andrew with his arm around Virginia's bare midriff. (Andrew doesn't remember the picture being taken.) Then she was left to what she scathingly calls her 'royal duties'. 'He was groping me,' she said. 'He touched my breasts. He touched my ass. He was not my type, but I'd been trained not only to not show my emotions but to do what's wanted. He started licking my toes, between my toes, the arches of my feet.' What ensued, she said, was 'the longest ten minutes of my life'. The following morning, Maxwell wanted all the details and she and Epstein laughed about the Prince's fixation with feet. 'You did well,' she told Virginia. 'He had fun.' Epstein gave her $15,000 for services rendered, the most he'd ever paid her. Job done, the trio flew back to the US."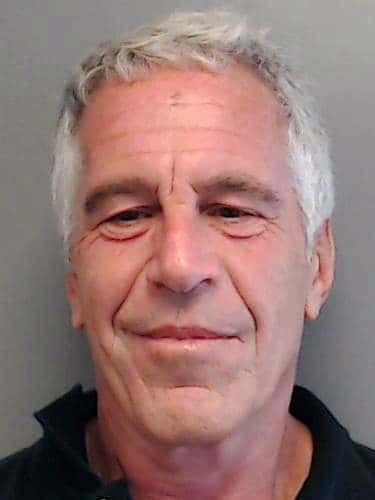 Virginia said that she had two more encounters with Prince Andrew, the second in Epstein's office in New York. "Maxwell paraded Virginia around the room like a show pony, before plonking her on Andrew's lap. At that point, he moved his hand, still wedged in the puppet, on to her breast. Everybody laughed," Cawthorne wrote. "Upstairs in the massage room, she steeled herself to have sex with him again. 'He couldn't have cared less about me as a young woman,' she said. 'He was being treated to sex for which someone else was paying. From the snickering noises he was making, he was really enjoying the whole thing but I felt like a total prostitute.'"
Virginia, Cawthorne said, started feeling "abhorrent and ashamed" after her latest encounters. She began turning to pills and cocaine and lost a significant amount of weight, which made her look nearly skeletal. "Epstein abruptly lost interest and stopped paying her rent. Without money, she came off drugs and concentrated on becoming an average teenager again and working as a waitress. She felt happier than she'd been for a long time," Cawthorne wrote. "It was just after she lost her job – through no fault of her own – that Epstein came steaming back into her life. Weakly, she agreed to work for him again. Although Epstein was now in his late 40s, there was no diminution in his sexual appetite. If anything, it had grown: he was now staging orgies with girls as young as 12."
Virginia now had to participate in the orgies. She was back to having lesbian sex with Maxwell to gratify Epstein. Soon after, she began taking tranquilizers again. "Jeffrey and Ghislaine's way of keeping us under his thumb, under his rule, under their control, were invisible chains,' Virginia said. 'And it was that constant – 'We own the police. You can't run. You can't tell anybody. We'll never be held accountable for this'," Cawthorne wrote. 
Epstein announced on Roberts' 19th birthday that he would send her to Thailand for eight weeks to study for her massage therapy certificates. It was there that she met Robert Giuffre, whom she developed a bond with and shared her ordeal with. Learning about her struggles, the Australian man reacted with compassion. 
"Before the end of her massage course, Giuffre had proposed and she'd accepted. Nervously, Virginia called Epstein's office. When he answered, she blurted out: 'I'm getting married'," Cawthorne wrote. "She then gabbled on about Robert and how wonderful he was. 'Have a good life,' said Epstein, and slammed the phone down." The two married in Australia and went on to have three children. 
Years later, in 2005, authorities approached Roberts and said they needed her testimony. She went on to sue Epstein for damages and received a fair sum in 2009. She also filed a lawsuit against Prince Andrew, alleging sexual assault in London, New York, and on Epstein's private Caribbean island. The lawsuit was formally dismissed on March 8 this year, after the two reached a settlement. The case was officially closed after Manhattan federal court Judge Lewis Kaplan signed a dismissal stipulation earlier this year. The court document states that Giuffre and Andrew will pay their own legal costs and fees. 
While Epstein allegedly died by suicide in jail, Maxwell was convicted on December 29, 2021, of recruiting and grooming underage girls for him for several years. Maxwell was convicted of almost all counts, with the top charge being sex trafficking of minors, which carries a maximum of 40 years in prison.
The other counts Maxwell was found guilty of are conspiracy to entice a minor to travel to engage in illegal sex acts, conspiracy to transport a minor with the intent to engage in criminal sexual activity, transporting a minor with the intent to engage in criminal sexual activity, conspiracy to commit sex trafficking of minors. While both the first and second counts carry a maximum sentence of five years in prison, the third carries a maximum sentence of 10 years in prison, and the fourth carries a statutory maximum of five years in prison. She was acquitted of count 2, which involved enticing a minor to travel to engage in illegal sex acts.