Detective acting Inspector Mitchell said the woman managed to grab the knife and believes she "made contact" with her attacker.
Blood at the scene led police to believe he was injured before he fled.
The woman ran onto the road and flagged down a passing motorist to get help. Her attacker was last seen running down Leinster Grove.
Detective acting Inspector Mitchell said the attack was "quite frightening".
"I think he was on a mission and he saw the woman coming and he pursued her," she said.
"When he could see that she was trying to get away, he tried to divert her attention appealing to her good nature."
Detective acting Inspector Mitchell said the attack happened very quickly. There was a party in a hall nearby. There were also houses close to the scene of the attack.
Police and SES volunteers spent hours combing the park for evidence overnight, particularly near a brick toilet block.
Detective acting Inspector Mitchell said the attack occurred in a populous area. Police hoped CCTV and dash-cam footage would provide clues to locate the offender, who made no attempt to cover his face during the attack.
Detective acting Inspector Mitchell said she wasn't aware of reports of other attacks in the park, which was reopened to the public just before 7am on Sunday.
The woman spent the night in hospital before being released on Sunday morning.
The assault has echoes of a series of attacks on women in public in Melbourne in the past few years, many in the northern suburbs.
Comedian Eurydice Dixon, 22, was raped and murdered in Princes Park in June 2018.
In January, international student Aiia Maasarwe, 21, was attacked and killed as she walked home in Bundoora, and Courtney Herron, 25, was bashed to death in Royal Park in May.
Anyone with information about the Mayer Park assault is urged to contact Crime Stoppers on 1800 333 000.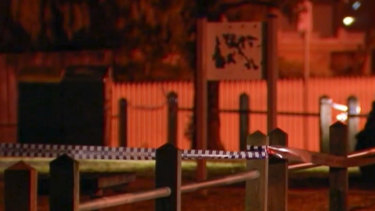 Robyn Grace is a journalist at The Age.
Source link