LOUISVILLE, Ky. (WDRB) — Like many fights that erupt inside and outside of school buildings, Khloe Johnson's assault was captured on cellphone video and posted to social media in May.
Sitting at a desk in Conway Middle School, another student began striking the sixth-grader wildly while she covered her head for protection. Eventually, Khloe fell, and the other student continued to punch at her and began stomping on her prone body.
The videos posted to social media show some students with their cellphones in hand capturing the assault while others shout for help.
"I was real angry. Like, where are these teachers at?" Candy Johnson, the 11-year-old's grandmother, said in an interview with WDRB News. "What was my granddaughter thinking? What was going through her mind?"
Records obtained by WDRB News show Jefferson County Public Schools doled out nearly 19,000 behavior referrals for fighting and nearly 1,400 for other acts of violence through the first 155 days of the 2021-22 school year, as of late April.
That amounts to about 121 fighting-related referrals and about nine violence-related referrals each day during that period of 2021-22. Violent incidents include assault, sexual assault, sexual offenses, robbery, kidnapping, arson, criminal abuse, menacing, bomb threats, terroristic threatening and wanton endangerment, according to JCPS.
The rate of daily behavior referrals for fighting — which includes student-to-student fighting and striking and students striking staff — has improved from the 2018-19 and 2019-20 school years, the latter of which was upended by the COVID-19 pandemic in March 2020.
JCPS staff issued 28,774 behavior referrals for fighting during the 2018-19 school year, a rate of more than 162 per day. The district saw fighting referrals drop to 25,115 during the 2019-20 school year for a daily rate of about 142, the classroom instruction abruptly closed in the closing months of the school term in response to the emerging pandemic.
Just 525 fighting-related referrals were doled out in the 2020-21 school year, which mostly consisted of remote learning.
"I don't think any parent wants their kids to fight anywhere — whether it's in school or out in the community — and it shows us that we have work to do," said Carolyn Callahan, JCPS chief of communications and community relations. "We all do as an entire community."
The district is taking steps to address student behavior issues at the school level, particularly talking with students and identifying "trauma-related triggers" in students that may ultimately cause them to lash out physically, she said.
"If you're a parent and at home and maybe you notice that your child is acting a little differently or something has happened in your home life, we would love to know about that so that our counselors, our principals, our mental health staff can work with your child and help them unpack that trauma so that things don't escalate to the level of having a fight," Callahan said.
Elementary grades recorded the most fighting referrals through the first 155 days of the 2021-22 school year at JCPS, totaling 8,514 referrals in kindergarten through fifth grade in district records. Many of those incidents involve students striking staff and other students, Callahan said, reiterating the district's work to identify trauma-induced triggers in elementary school students.
"We've gone through training with our principals and our administrators and our staff to notice not only the kids who are maybe acting out in class but the kids who are actually being quiet in class, too," she said. "… We're really making that effort to meet the kids where they are and find out how we can help them prevent this before it happens."
Sixth, seventh and eighth grades were the only ones in JCPS records to top 2,000 behavior referrals for fighting-related incidents in the first 155 days of the 2021-22 school year.
Nearly 2,600 fighting referrals were given to students in sixth grade, the most of any grade in records provided to WDRB News. Seventh-graders received behavior referrals 2,333 times for fighting or striking in the first 155 days of the school year followed by 2,243 fighting-related referrals for students in eighth grade.
Male students received the lion's share of behavior referrals for fighting-related incidents during the first 155 days of the 2021-22 school year, with 13,274 write-ups out of 18,818, according to JCPS data. Most fighting-related incidents were resolved through out-of-school suspensions, which comprised 10.8% of such resolutions.
Below is a list of schools with the highest number of fighting-related referrals for the first 155 days of the 2021-22 school year, per district records:
Binet School: 733
Marion C. Moore School: 531
Thomas Jefferson Middle School: 512
Coleridge-Taylor Montessori Elementary School: 448
Cane Run Elementary School: 443
McFerran Preparatory Academy: 412
Stuart Academy: 405
Kammerer Middle School: 380
Noe Middle School: 371
Carrithers Middle School: 363
Goldsmith Elementary School: 342
Johnson Traditional Middle School: 330
Conway Middle School: 328
Ramsey Middle School: 313
Crosby Middle School: 305
Highland Middle School: 303
Many of those incidents likely involve students striking another student or a staff member, Callahan said. Binet is "a safe school," she said, again reiterating the district's work to identify and work through trauma experienced by students there and throughout JCPS.
"Teachers are happy, and the kids are happy," Callahan said. "It is a difficult situation at times to maintain a level where there isn't a strike going on."
Across the district, JCPS has resources like mental health counselors and trauma teams to help students in need, she said. Callahan encouraged families concerned about their child's safety to contact their principals and administrators.
"Not only do we have trauma teams in every school, we also have folks who can come to the school if a teacher says, 'Hey, we are having more trouble than we know how to handle on our own. We need a bigger plan for this student to help the student,'" she said. "We have groups of workers who can go to those schools. They will observe, they will come up with a plan, they'll work with the families and with the student to come up with the best possible plan so that every student can be successful."
Some families, however, have reservations about the safety of their children in schools.
"It's been bad," Johnson said. "Khloe will not even come up here to get her stuff out of her locker. She is terrified. She's never been in no kind of violent fights."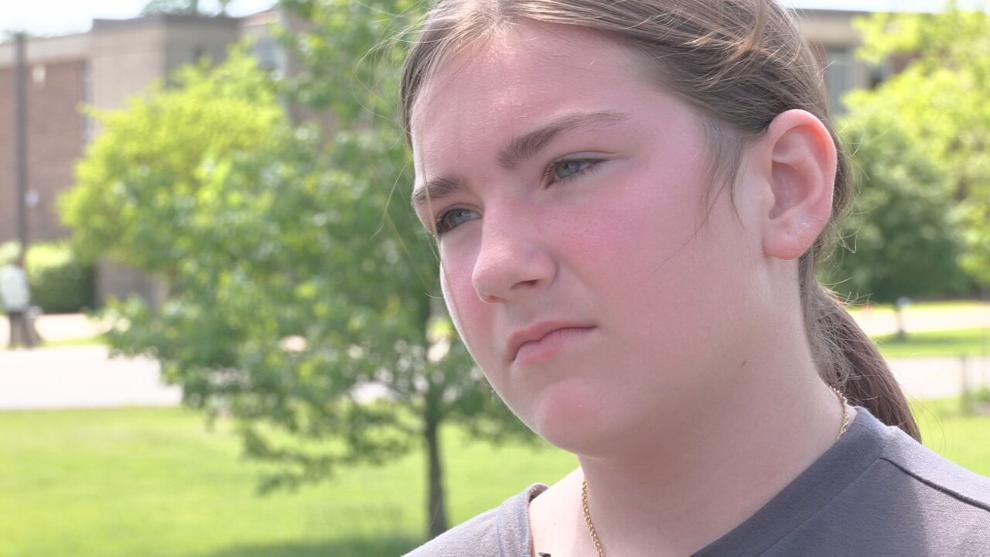 That May incident wasn't the first time Khloe said she was bullied by the student who attacked her, but her family hopes it will be the last. She's transferring to Lassiter Middle School, hoping for a new start.
"I just hope there's no bullying, nothing," Johnson said. "I just want this stuff to stop. Not just for my child, for all these kids. Somebody could have seriously gotten hurt that day."
Susan Sanchez, the mother of a 16-year-old Doss High School student with disabilities named Chaynce, said her son was punched "square in the nose" in April after telling another student to shut up. She said her grandson wanted to stop the student from bullying another in class.
After feeling like the school did little to protect her grandson from future altercations, she filed assault charges against the other student she says attacked her grandson.
She said her grandson was suspended for about a month after allegedly threatening to break a security monitor's arm and refusing to leave a classroom in March. His alleged attacker a month later was back in school, three days after the incident, she said.
"That's unacceptable," Sanchez said. "… This student punches my grandson in the nose, bleeding everywhere, gets three days' suspension."
Johnson also worries about her granddaughter's safety and wellbeing in the aftermath of the attack.
"I'm afraid she's going to fall back in her grades and I don't want her to let this stop her to achieve what she needs to achieve in life," she said. "I want her to go forward."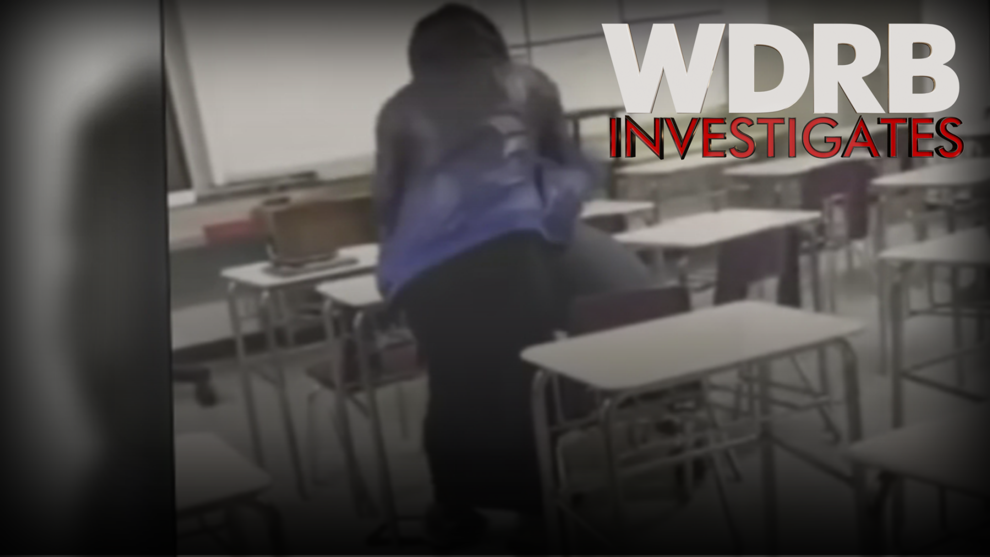 Copyright 2022 WDRB Media. All Rights Reserved.
.  .  .  .  .  .  . .  .  .  .  .  .  .  .  .  .   .   .   .    .    .   .   .   .   .   .  .   .   .   .  .  .   .  .