ITHACA, NY — A broken grease trap. A missing ice bucket. Space, attendance and staffing issues. These are the official reasons Starbucks is giving for the closure of its College Avenue store on June 10. Employees, however, say those are just excuses.
The Starbucks location in Collegetown, along with the two other locations in Ithaca, voted to unionize back in April. Shortly after, the now much talked about grease trap broke, causing workers to strike, citing unsafe working conditions. On June 3, the employees were told the store would be permanently closing in one week.
"I have no idea what the grease trap even is, I don't know where the grease comes from," shift supervisor Bek MacLean said. "Apparently at other Starbucks it's underground. All I know is it's really stinky. We operate around it. We've been dealing with the stinkiness and nastiness of this grease trap since I got hired there in 2017."
According to some Starbucks baristas in online forums, the grease trap collects grease from milk fat, among other runoff from the hundreds of drinks made daily. On April 16, a failure of that trap led to its contents spilling across the floor. Despite customer complaints about the smell and employee concerns about safety, the store's manager would not close the café. Shortly after, employees decided to walk out.
Though the unionization efforts that began at the start of this year and the grease trap-fueled strike in April were certainly more public efforts for better working conditions, MacLean said there had been issues behind the scene for much longer.
Since Oct. 2021, MacLean said the College Ave store has had at least four different district managers and four different store managers, to varying degrees of success. She said there was originally a manager at the store named Tracy, who she described as awesome.
"She cared about the [employees], she wanted our store to be unique and involved with the community," MacLean said. "And then around Christmastime, she abruptly walked out."
MacLean said a "support manager" from Seattle came in and had a meeting with the manager, who left shortly after. The following week there was a storewide meeting led by the support manager, and when she asked the group had any questions, MacLean asked why Tracy had left.
"She said [Tracy] was getting overwhelmed with the holiday season," MacLean said. "That doesn't make any sense for our store. That's the slowest time of the year for our store because all the students are gone. I didn't believe that for a second but that's what she told us."
MacLean accused Starbucks upper management of lying to them frequently, including assuring them they would get the hours they requested. However, MacLean said as soon as there were whispers of unionization, things changed. Employees who had requested a lot of hours were getting much fewer, while students who could only work 12-15 hours were being scheduled for more than 20.
MacLean also said that after the store voted to unionize, employees started to get written up regularly for trivial things, which she said they saw as retaliation.
After that support manager left, a manager from Horseheads began doing double-duty at the College Ave store and their Horseheads store. After that, MacLean said a woman named Amanda came in from the West Hollywood store.
"She the worst of them," MacLean said. "She has zero respect for any of us."
In April, a new store manager was hired. He trained in Horseheads and started at College Ave in early May, according to MacLean. She said he was there for a week before he transferred to the Commons location after that manager transferred to Cortland.
All that to say, there has in fact been a lot of turnover in management, and the reasons aren't entirely clear. A spokesperson for Starbucks said she didn't have any information on the management turnover, but did say time and attendance were issues at the College Ave store.
MacLean notes that shortly after the store voted to unionize, college students started putting in requests for transfers so they could work at their home stores while they went home for the summer.
"There was one person whose transfer got accepted, so they kept on scheduling these college students when they were going home, so all of our students were forced to quit," MacLean said. "Literally all our partners quit except the locals and the one person who got approved."
The spokesperson could not clarify if that is what was meant by time and attendance issues. MacLean thinks they're all excuses anyway.
"In the original reason they gave [for closing the store] they said 'business reasons' and 'time and attendance reasons,'" MacLean said. "But in the bargaining meeting they said none of those issues. We're the most profitable store in Ithaca, and we don't have time and attendance issues."
The Starbucks spokesperson said she did not have information on which store in Ithaca was the most profitable, so that could not be confirmed. However, located on prime real estate in Collegetown, it's undeniable that the store receives much foot traffic. It's unclear how much Starbucks pays in rent for that location, the spokesperson declined to say, but based on similar properties in that area, it's likely upwards of $20,000 per month. However, there was no inclination from Starbucks that the cost of the lease played any part in the store closure.
"We open and close stores as a regular part of operations," the Starbucks spokesperson said. "This is often the case because we are continuously working to create the environment people expect from Starbucks."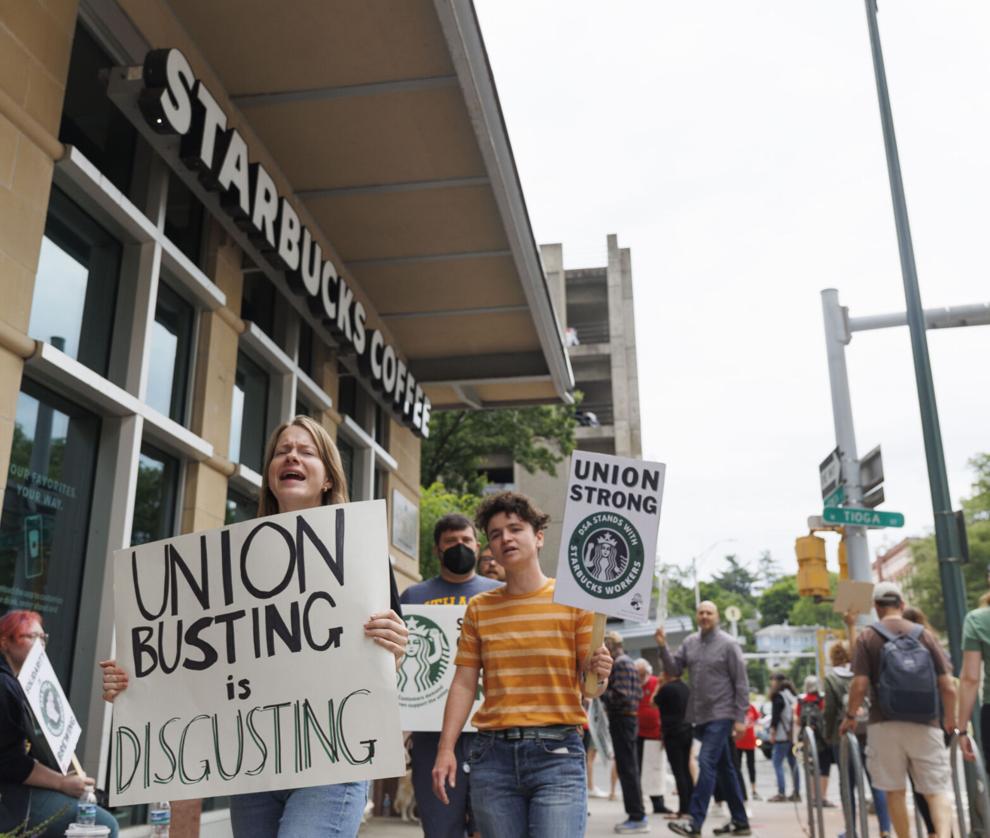 As both Starbucks and MacLean noted, there is a bargaining process currently underway between the College Ave union and Starbucks upper management and attorneys.
Both MacLean and the Starbucks spokesperson confirmed that Starbucks' original plan was to transfer all employees from College Ave to different stores. MacLean said she believed they would go to the other two Ithaca stores, but the Starbucks spokesperson said she believes they were just stores "in the area," and not necessarily in Ithaca. There are stores in Cortland, Binghamton, Vestal and Elmira.
However, the union has not agreed to those conditions, and has been continuing negotiations with Starbucks. MacLean said the College Ave employees are still firm in their desire to reopen the store, but are for now continuing to bargain in good faith.
"We saw what they wanted and made a counteroffer," MacLean said. "We wanted all the sick and vacation time paid out. They said they wouldn't do sick time, just vacation time."
MacLean noted that vacation time does not start accruing until employees have worked for Starbucks for a full year, which is less common in a student-dominated store like College Ave. The union asked Starbucks, since they weren't willing to reopen the current store because of the facilities issues, if they would consider relocating in Collegetown. However, MacLean said Starbucks told them that Collegetown has old buildings, and they don't want to rent old buildings.
"So that's obviously bullshit," she said. "And they said they will not reopen the College Ave location in that building."
However, when the union tried to negotiate a right of first refusal, or the guarantee they'd get first dibs on jobs at a Collegetown store if one reopened, Starbucks refused and said they would only get the right of first refusal for that location — which they said they will not reopen in.
MacLean said the union has also been frustrated by Starbucks' seemingly lack of preparedness for bargaining meetings.
"They're late to every single meeting, and at the end of our first meeting we asked for their proposal in writing before the next meeting. They sent it to us 45 minutes before that next meeting, so we didn't have time to look it over," she said. "They've been so ill prepared, and they are still not providing us with information we're asking for."
In addition to the ongoing bargaining, the union's lawyers are working on legal action against the corporation and is filing an Unfair Labor Practice charge with the National Labor Relations Board. It alleges that "Starbucks closed the store in retaliation for activity protected by federal labor law and in order to stop workers elsewhere from organizing, and in violation of its legal duty to bargain over the closure."
MacLean is confident that the National Labor Relations Board will rule in the employees' favor.
"What they're doing is illegal," she said. "It has to be."
.  .  .  .  .  .  . .  .  .  .  .  .  .  .  .  .   .   .   .    .    .   .   .   .   .   .  .   .   .   .  .  .   .  .